Pure Safari
10 days - 9 Nights From Kruger (South Africa) to Maun (Botswana)
The most beautiful and exclusive of South African and Botswana game reserves await you on this itinerary. Fly from the renowned Kruger to the majestic Chobe (making a stopover at Victoria Falls) and end in the mythical Okavango Delta. You will revel in the various forms of searching for game, whether it's on foot, in a 4x4 open game vehicle, in a pirogue, a boat or while travelling between lodges in a light touristic airplane. Incredible experiences, spectacular views, nature at its best in all its authenticity
AUTHENTIC
Explore unique Game Reserves (Kruger, Chobe, Okavango)

Total immersion in the bush. No barriers

Various types of Safaris (Air, Water, Earth)

Fly over the biggest Delta in the World, (Okavango – Botswana)

Admire Victoria Falls from the ground and from the air
---
Detailed Information
Price in ZAR
Pure Safari
Season
Low
11.1-31.3
Medium
1.11-10.1; 1.4-31.5
High
1.6-31.10
Per person Sharing
79841
89163
114778
Single Supplement
11435
14244
21214
Child under 12 years *
73141
79451
99426
With language translator
Per person sharing
116881
130678
165581
Single Supplement
11435
14244
21214
Child under 12 years *
73141
79451
98800
* accompanying 2 adults
Per person Sharing
Season Low
11.1-31.3 : 79841
Season Medium
1.11-10.1; 1.4-31.5 : 89163
Season High
1.6-31.10 : 114778

Single Supplement
Season Low
11.1-31.3 : 11435
Season Medium
1.11-10.1; 1.4-31.5 : 14244
Season High
1.6-31.10 : 21214

Child under 12 years *
Season Low
11.1-31.3 : 73141
Season Medium
1.11-10.1; 1.4-31.5 : 79451
Season High
1.6-31.10 : 99426

With language translator

Per person sharing
Season Low
11.1-31.3 : 116881
Season Medium
1.11-10.1; 1.4-31.5 : 130678
Season High
1.6-31.10 : 165581

Single Supplement
Season Low
11.1-31.3 : 11435
Season Medium
1.11-10.1; 1.4-31.5 : 14244
Season High
1.6-31.10 : 21214

Child under 12 years *
Season Low
11.1-31.3 : 73141
Season Medium
1.11-10.1; 1.4-31.5 : 79451
Season High
1.6-31.10 : 98800

* accompanying 2 adults

Included
9 nights' accommodation in minimum 4 star lodges.
All meals from day dinner day 1 to breakfast on day 10
A reasonable amount of drinks (alcoholic and non-alcoholic), except in Kruger
Guided visit of Victoria Falls
All road Transfers according to program
All internal Flights from Kruger to Maun (3 in total)
Other activities according to program.
Excluded
International Flights into Kruger and out of Maun
Obligatory travel insurance
Visas
Entry fees Victoria Falls (to pay directly at Park)
Helicopter flight over the falls (weather permitting)
All government arrival and departure taxes
Personal expenditures (curios purchases, drinks, telephone etc )
Tips at your discretion
Optional activities
Pre- and Post-tour accommodation or tours
All other travel before or after the itinerary
Any new governmental taxes or increases linked to the industry that are beyond our control.
Program
From Kruger (South Africa) to Maun (Botswana)

DAY 1 to 3
Sabi Sands - Kruger National Park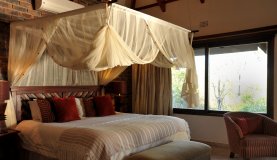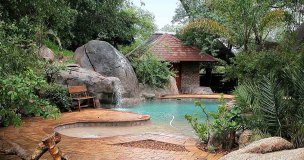 On arrival at Johannesburg airport your guide will meet you and accompany you on your flight to Skukuza Airport, in the renowned Kruger. Here in the Sabi Sands, well known for its abundance of leopard, you will enjoy 4x4 safaris into the wild, searching for the Big 5 – (lion, leopard, elephant, Rhino and Buffalo), learning about the smaller creatures in the area, immersing yourself in the bush. Bush walks will allow you to get a closer look at the nature around you.

DAY 4
Stanley Livingston - Livingstone – Victoria Falls (Zambie)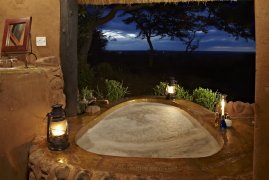 After a last safari a short flight will take you to Zambia. Here you will observe one of the 7 natural wonders of the World, Victoria Falls. An overnight here will allow you to enjoy this most beautiful site - from the ground and from the air.

DAY 5 to 7
Ngoma Safari Lodge* – Chobe National Park – Botswana
* Children from 10 years old (below 10 years old, accommodation at Muchenje Safari Lodge)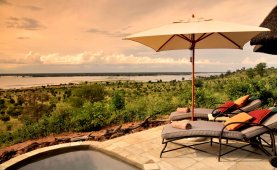 It's time to leave this beautiful site and head off to the Chobe National Park and its 50 000 elephants. A road transfer will allow you to appreciate the local terrain. On arrival immerge yourself in the natural bush around you and in the luxurious lodge we have chosen for you. While in the Chobe you will enjoy River cruises to admire the animals from the boat, bush walks to get up close and personal and of course in 4x4 open game drive vehicles which will allow you to go further afield. Mother Nature at its best.

DAY 8 to 9
Wilderness Classic Camp* – Okavango Delta – Botswana
*Groups with children under 12 must book their Safari activities on a Private basis (contact us for further details)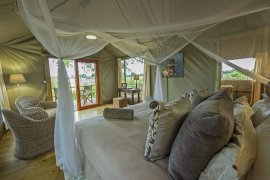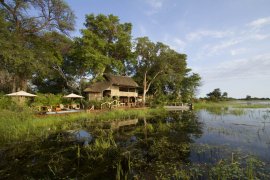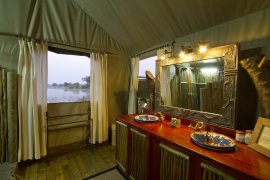 A change of décor, takes you to the Delta, for a Safari approach air and water. After a short road transfer, to Kasane airport, embark on a small touristic airplane for your lodge based in the Okavango Delta. On route, search for the animals below, marvel at the aerial site of the most beautiful and exceptional Delta, where wild life roams free. Your time in the delta will allow you to approach animals on mokoro, boat, foot and in some seasons in a 4x4. The Okavango, pure Safaris, pure Adventure.

DAY 10
You have enjoyed the best Africa has to offer, the time has come to say good bye and take your light aircraft flight out to Maun international airport where your guide will wish you farewell.

Map
| | |
| --- | --- |
| A | Kruger Mpumalanga Intl Airport (KMIA) |
| B | Kruger, Sabi Sands, Idube Game Lodge |
| C | Victoria Falls |
| D | Chobe National Park |
| E | Okavango Delta |
| F | Maun Airport |
More information/Contact Us/Offline Quote
---
In the same category
Best Of
The best we can offer of "animal interaction", "safaris" and "landscapes".
From ZAR 57047
10 days - 9 nights - Johannesburg to Cape Town (or inverse)
more...
Spectacular Landscapes
Open spaces as far as the eye can see, landscapes that will take your breath away!
From ZAR 107893
10 days - 9 Nights - From Cape Town (South Africa) to Victoria Falls (Zimbabwe)
more...
Authentic Botswana
The reference in exclusive Safaris - Wild and luxurious
From ZAR 125364
11 days - 10 nights - from Livingstone (Zambia) to Maun (Botswana)
more...
Diverse Namibia
Ultimate voyage traversing time through a country of stupefying diversity.
From ZAR 31095
10 day - 9 night - From Windhoek (Namibia) to Windhoek (Namibia)
more...
Improbable Encounter
Live intense emotions. Get up close to wild animals in this unbelievable itinerary
From ZAR 57579
10 days - 9 Nights - From Johannesburg to Cape Town (South Africa)
more...
---